Based in Charleston, South Carolina, Bradshaw & Company, LLC is a comprehensive real estate, business law, and estate planning law firm that has earned its solid reputation by delivering the highest level of service in assisting clients with their legal, transactional, and estate planning objectives. The culture and approach of this firm has been characterized by many as more like family, with several clients having entrusted their legal needs solely to Bradshaw & Company for over a decade. As a smaller law practice, we are able to give more focused attention to each of our clients. Here, we intend to keep you for life and thus work very hard to ensure that every detail is considered and properly addressed.

From ensuring that our basic real estate closings conclude smoothly and effortlessly to negotiating and structuring complex commercial transactions and advanced Section 1031 exchanges, our commitment to our clients is evident in all of our work. Please contact us or come see us. Once you've worked with our team, we are confident that you'll be with us for many more years to come. We at Bradshaw & Company pride ourselves on providing unparalleled service to our clients and continue to enjoy a solid reputation as one of the most prominent and service-oriented real estate and trust law practices in South Carolina.
Our law firm prides itself not only on its proactive and detailed approach to our clients' needs but also on its time-honored devotion to making their experience with us as professional and effortless as possible. For us, our clients are part of the firm's family and we seek to protect their best interests as such. If you are seeking expert real estate, business, or estate planning legal services, please contact us today.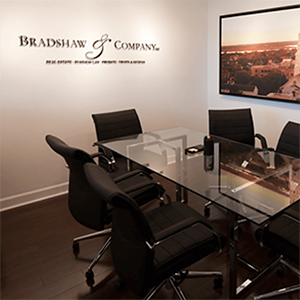 What Areas of Law Do We Cover?
Our legal team is well-versed in multiple practice areas. With over 19 years of experience, you can trust us to handle cases involving:
Real estate law - let us negotiate real estate transactions and assist with property closings

Business law - work with us to legally form your business and file the necessary paperwork

1031 Exchange - Effective tax structuring for real estate transactions

Trust and estate law -our law firm will help you create a will or trust that protects your beneficiaries
Schedule an appointment with our trusted probate or business law attorney in Charleston, SC today.